R.A.D. Executive board
Theresa Barker
Theresa has been a R.A.D. Instructor since April of 1991, where she attended the very first R.A.D. Instructors Program. She received her Bachelor of Arts degree in Criminology from Indiana University of PA and then worked 10 years as the Administrative Supervisor for the Security Department at Virginia Wesleyan College and is currently the Benefactor Coordinator at that Institution. Theresa is a Staff Instructor in the Basic Physical Defense System. She is also the editor of R.A.D.'s Newsletter, The Instructors Voice, one of the original Executive Board Members, a Susan B. Anthony Award Recipient, and a charter member of The R.A.D. Systems Hall of Fame.


Archie Griffin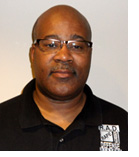 Archie became a part of our alliance in 1991 and has been a rock for us ever since. Through his dedication and hard work, Archie rose through the ranks, becoming R.A.D.ís very first Instructor Trainer and after some time was promoted to Staff Instructor in the Basic Physical Defense System. He was also the first Instructor Trainer in the radKIDS Program and has served as wise council to many of us over the years. It was also Staff Instructor Griffins idea to conduct an annual training conference back in 1995. He is an Instructor Trainer in Advanced Self Defense and RAD For Men, a Hall of Fame Charter Member and R.A.D. Susan B. Anthony Recipient. Archie recently retired from the University of Maryland at Baltimore Police Department after twenty five (25) years of service in the law enforcement community.



Kathy Wright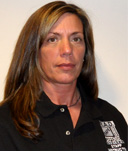 Kathy is a former City of Buffalo and Virginia Beach Police Officer with 14 years experience. She became a R.A.D. Instructor in 1996 and has since become a Staff Instructor in Basic Physical Defense, Advanced Self-Defense, and Replicating Adverse Dynamics. An Instructor Trainer in both the Aerosol Defense Options and R.A.D. for Men programs, Kathy was awarded R.A.D. System's coveted Susan B. Anthony award in 2003. Kathy is also certified as a Personal Fitness Specialist through the Cooper Institute of Aerobics Research. She is a former Adjunct Instructor with Heckler and Koch's International Training Division, is currently a Staff Instructor with the National Academy of Defense Education in Denham Springs, Louisiana and has taught defensive tactics skills on a national level.